EVENTS
A GREAT MIX OF MAGIC AND COMEDY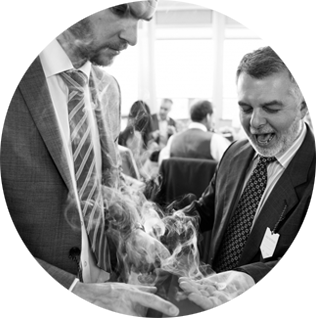 As a corporate magician, David Burgess holds the power of business events in his dexterous hands.
Companies, large and small, are increasingly aware of the need to create a fun environment at their corporate events to make guests feel relaxed and comfortable. The combination of magic, comedy and business is the ultimate ice breaker, as guests are taken out of their comfort zone without even knowing it!
An extension of your sales team
Rather than simply entertain at corporate events, David Burgess can use his experience in sales, and his "gift of the gab", to promote a client's particular product, service or event. His approachable, cheeky demeanour puts guests at ease and breaks the ice.
The format of David's performance can be decided by the client. David can perform his magic to corporate guests at individual tables, or by bringing a welcome break to the working event by doing his tricks at the front of the room to the whole audience.
Trade shows and expos
David also works at trade shows, performing at clients' stands, usually for an hour, drawing delegates in, adapting his tricks to help promote specific products or services, and then handing over valuable leads.
The ultimate aim of a corporate event is to forge valuable working relationships. As such, the carefully selected corporate guests should leave feeling that they have been treated like VIPs, keen to engage and reconnect with their hosts in the near future. Entertainment by a corporate magician is an effective way to break down barriers and build these relationships.
Some corporate clients that David is proud to have worked with are Liverpool FC, Barclays Bank and Rock FM.
David would be delighted to discuss how he can pull your amazing corporate event out of the hat! Contact him for more information.
hire me
Bring a little magic to your event