BIRTHDAYS
ALWAYS READY FOR A PARTY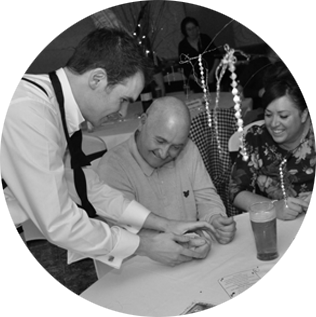 David Burgess is a talented birthday party magician with enough comedy value to fill any size of venue or party.
Birthday guests anticipate a fabulous experience from the party, so they are prepped and eager to be entertained. When that entertainment is provided by Liverpool's favourite birthday magician, chances are they'll get more than they bargained for.
David is the perfect tonic for parties that are in danger of becoming just like any other. Why not push the boundaries of tradition and go for something different? With David Burgess, you certainly get that!
A performance style that suits you
Whilst the focus is on fun, David is professional in his craft and knows your birthday is special to you. He works with you to find the best format for your occasion, to deliver tricks and entertainment that will leave guests astounded and impressed with your choice of entertainer.
David can either perform his birthday magic with individual standing groups or at tables, or more formally in front of all guests together as a birthday show. The birthday boy or girl is invited to participate along with other guests, but there is no pressure to do so!
Anyone who is perhaps a little apprehensive about reaching a "special" birthday will soon forget their age as they watch David and guests revel in the party atmosphere. His performances are always interactive, skilful and most importantly, fun.
Memories to cherish
Birthday celebrations should create fabulous memories, as they're one of the few times that far flung families and friends get together. David Burgess brings the wow factor that guests will remember for a very long time.
If you would like David to bring that "something different" to your party, get in touch.
hire me
Bring a little magic to your event